Nightwatch office building burns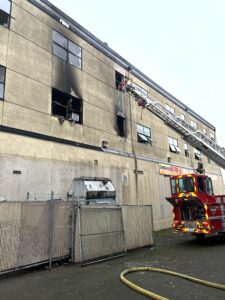 The building, where Operation Nightwatch offices are situated, had a two-alarm fire in the early morning of February 19.
The only direct damage to Nightwatch was to boxes of archives and some shelving. No one from Nightwatch was hurt. The offices are directly across the street from the Nightwatch building. Power is off. There are broken windows, and possible structural damage. Debris, water damage, and smoke smell are evident everywhere.
Despite the destruction, our mission continues to function – providing food and shelter, senior housing, and street ministry.
We don't know how long it will take to return to our offices. Inspections, insurance, restoration services, and permits all need to be dealt with.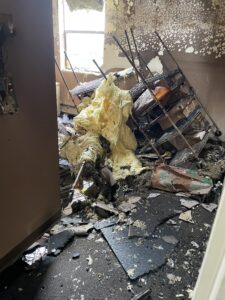 All of this is complicated by the fact that new directors are coming soon – to replace Ann and Rick. For now, we will work at home and in the Nightwatch building, using temporary measures to get access to phones and email.
The office building houses many other wonderful non-profit groups besides Nightwatch. Pray for a quick recovery for all.
If you'd like to help, see our wish list here. or send support through our Donate Now button above.