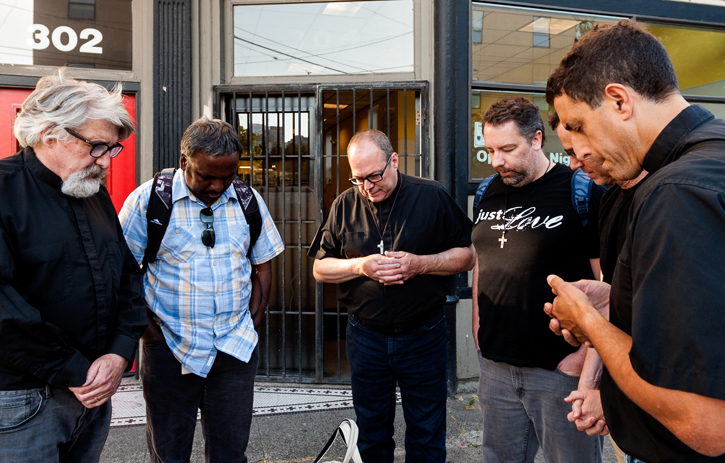 One of the best things about Nightwatch is the diversity of people who gather around the mission — "to reduce the impact of poverty and homelessness, in keeping with Jesus' teaching to love our neighbors."
The faith of the individuals who make up Nightwatch – as volunteers, donors, workers, tenants, and homeless neighbors – is as varied in form and expression as could be imagined. A long time ago, Nightwatch decided it could not define that faith. So we keep it simple. If you are good with loving your neighbor, you are welcome. No statement of faith required. All are welcome. We are Catholic, Presbyterian, Methodist, Episcopalian, Baptist, and undecided.
In the spirit of generosity, we invite you to pray as you are led.
Current prayer requests
Please pray with us…
Prisoners
Lord Jesus, for our sake you were condemned as a criminal:  Remember all prisoners. Bring the guilty to repentance and amendment of life, and give them hope for their future. When any are held unjustly, bring them release. May justice roll down like waters and righteousness like an ever-flowing stream. In the name of Jesus, Amen.
Family Reconciliation
O Lord, grant peacefulness to the families in this community. Let anger and fear give way to patience and hope. Let our families become havens of peacefulness, welcoming and safe for all spouses, children, and loved ones. Keep us in harmony with each other and with you. In your holy Name, Amen.
Victims of Domestic Violence
Lord God, grant safety this night for those fleeing domestic abuse. Grant them healing and safety from their oppressor. Lead us in providing for their needs, and not to turn away from those who are vulnerable, through Christ our Lord. Amen.