How to access food and shelter at Operation Nightwatch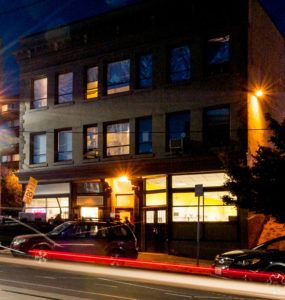 Each night, Operation Nightwatch has a limited number of shelter spots available to our guests. There is no guarantee that shelter will be available on any given night. Due to the pandemic, shelter availability for new guests is highly unlikely. Proof of full vaccination or a negative COVID-19 test within the last week is required for all shelters.
Men are required to get a referral to come to Nightwatch. A limited number of referrals are available:
Bread of Life Mission, 97 S. Main Street, Seattle, 9:30 am – 2:30 pm every day.
Case managers, social workers, or churches can refer occasional guests to Nightwatch.
If you just arrived in town that day, or were released from the jail or hospital, and can show some proof, that can serve as your referral.
If you were a registered guest of Nightwatch on the previous night, you do not need a referral.
Women do not need a referral to access services at Operation Nightwatch.
A meal served "to-go" is available every night at 9 pm.
Nightwatch is open 9:00 pm – 11:00 pm every night. We ask our guests to arrive at 9:00 pm or later. We do not allow a line to form prior to 9:00 pm, as a courtesy to our neighbors.
Our homeless guests are encouraged to "travel light." There is no room at any Nightwatch shelters to store belongings.
---
Our Shelter Dispatch Center location:
302 14th Ave S, Seattle, WA 98144
Transit connections
The building is served by a number of Metro routes (depending on how far you care to walk) and by the streetcar line which connects Pioneer Square with Broadway and First Hill.
Route 14: On Jackson, one block south.
Route 7: 12th Ave S. and S. Jackson, three blocks away.
Route 27: 14th Ave. and Yesler, three blocks to the north.
Route 36: 12th Ave. S. and S. Jackson, three blocks away.
Street Car: Stops on 14th Ave S, just a block north of the building.