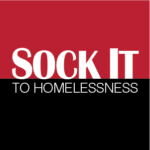 Thanks to your incredible generosity, we've collected over 23,000 pairs of socks! Because we hand out socks every day, we accept sock donations year-round, so it's not too late to give.
Get sock donation details here
---

Nightwatch Works 2022
Thank you for your outpouring of generosity during the Nightwatch Works campaign! Your support provides food, shelter, housing, and hope for poor and homeless people in our community.
---

Neighboring landowners have approached us to gauge our desire in acquiring their property.
Read on for more details and periodic updates
---

Operation Nightwatch welcomes new Executive Director, Deacon Frank DiGirolamo.
More details about the transition here
---
We publish a monthly newsletter – the stories are short and to the point, the sort of stories you would share with friends, stories of survival, failure and redemption.
---
During this current health crisis, Operation Nightwatch is following best practices as given to us by the King County Public Health Department and the Healthcare for the Homeless Network.
Learn what steps we are taking to protect and provide for our homeless neighbors, volunteers, and staff
---
Due to the COVID-19 pandemic, our volunteer open house is on hold until further notice.
Get more Volunteer Open House details
Learn more about volunteering at Nightwatch
---
Need a Speaker?
Hear more about homelessness in the community, the work of Nightwatch, and stories from the streets of Seattle.
Nightwatch can provide a program for your school, community group, church, Sunday school class, or home fellowship.
Just give us a call. (206) 323-4359.