Please join us for a special fundraising dinner celebrating the many ways we are Together Again.
Get all the event details here
---
Volunteering the first time can be a bit overwhelming too. So we want to give you a chance to come look around, to hear in greater detail about the various volunteer opportunities, without making a commitment. Please join us!
Get more Volunteer Orientation details
Learn more about volunteering at Nightwatch
---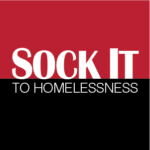 Thanks to your incredible generosity, we've collected over 23,000 pairs of socks! Because we hand out socks every day, we accept sock donations year-round, so it's not too late to give.
Get sock donation details here
---
Operation Nightwatch welcomes new Executive Director, Deacon Frank DiGirolamo.
More details about the transition here
---
We publish a monthly newsletter – the stories are short and to the point, the sort of stories you would share with friends, stories of survival, failure and redemption.
---
Need a Speaker?
Hear more about homelessness in the community, the work of Nightwatch, and stories from the streets of Seattle.
Nightwatch can provide a program for your school, community group, church, Sunday school class, or home fellowship.
Just give us a call. (206) 323-4359.