A Nightwatch shelter got bounced in February 2017.
This is the story of where we've been and where we're (hopefully) going.
Seventy-five guys from Nightwatch were displaced by a city-funded program for 75 homeless people. Less than a month after giving us a 90-day notice, demolition began. The City offered use of a small room at the Seattle Center (for 65 guys) and then a few weeks in the Seattle Municipal Tower (which could only sleep 51 guys). The Parks Department had a surplus building slated for demolition in September. So for a few months we have housed 72 men on Boat Street in the U District.
That will end August 31. And then? We're still not sure.
Today, we're entering into final discussions with a church for using some of their basement space. And we are talking to different organizations about running the shelter for us. It will mean a reduction in size from 72 men, but we also have some irons in the fire to make sure no one is left outside, for now.
Thanks for your help. Nightwatch depends on hundreds of volunteers each month, and the contributions of concerned and generous people like you. We need to get people inside and safe at night. It's better for everyone.
---
September 5, 2017 update
Phew! A bunch of stuff has happened, with more to come.
First, we worked out a deal with Union Gospel Mission to take 32 guys from Nightwatch during the months of September and October. This was a huge relief!
Secondly, up to 50 of our guys are migrating to a new 24-hour program called Compass First Presbyterian. This program includes meals and gives folks a place to be all day, while they work with social workers to figure out permanent solutions to their homeless situation.
The third thing that is in the works – a new Nightwatch-funded shelter will hopefully open October 1. We still have some details to iron out with the host congregation and the people who will be running it. We are looking for long-term stability for us and our homeless guests, of course!
Keep checking back over the next few weeks as we get paperwork signed, and city permits approved.
---
October 27, 2017 update
Operation Nightwatch has made an agreement with University Friends Meeting to use their building for shelter. For the past few weeks we've been working to get everything ready.
We've made smoke alarm improvements and emergency lighting upgrades. The mats were moved in last week. Looks like initially we will have room for 40 people, with plans to buy special bunkbeds to increase our capacity to 50.
Catholic Community Services will be providing staff and management for the shelter.
Now we're just praying to pass inspections and get it all together by November 1.
Thanks for your support.
---
November 17, 2017 update
We are thrilled to have finally opened our new shelter in the University District on Friday, November 10!
We passed inspections and have been providing shelter for one week. We are now awaiting delivery of bunk beds to allow us to operate at full capacity.
Thank you for all of your prayers throughout the process.
---
*January 30, 2018 update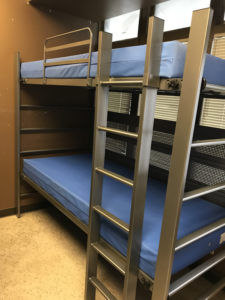 The new Friends Shelter is now serving 50 guys a night, thanks to the addition of bunk beds. The beds were paid for through funding from the Robert and Helen Hitchman Foundation. Thank you!
It's really a great improvement – not to be sleeping on a mat on the floor. This way, there's more room for stashing your backpack, and a better sleep experience in general. Nightwatch donors pay for the two workers overnight. In the morning, the guys are given bus tickets to get them where they need to go for the day.
Problem is, we need more basic shelter. Let's get everyone inside while we figure out how to resolve this homeless epidemic!